What is MIDKontrol ?
MIDKontrol is a powerful program which lets you control MIDI gears by sending preset or programmable continuous controllers (cut off, reso, attack, decay, release, reverb...) or note on controllers.


© NeoMIDI software 1999-2k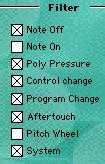 MIDKontrol can also be used as a powerful MIDI filter.
Toggle from 4 different color backgrounds !

Requirements
Any 68000 or Power PC macintosh running from System 7 to 8.5 (Must be OK under Mac OS 9).
A MIDI interface hooked on the modem port.
A MIDI gear compatible with continuous MIDI controllers messages.

Technical tips
MIDKontrol works with its own MIDI drivers, so you don't need OMS nor Apple MIDI manager. Nonetheless MIDKontrol is compatible with this previous drivers.
MIDKontrol is compatible with almost all MIDI gears of the market (including standards like XG,GS,TG,General Midi).
For the rest, the online help is enough !

Download here


What is MIDSensor ?

MIDSensor is a basic but powerful program which lets you control MIDI gears with mouse or joystick moves in 2 Dimensions. Select 1 or 2 preset or programmable continuous controller and start waving upon the window ! Simple but lethal ;-)


The random capabilities let you search for new sounds or effects with a mouseclick !
I use it in conjonction with a Yamaha RM1x sequencer/expander to modulate sounds in real-time. Should work well with Roland MC303-505 and all MIDI gears that deals with Continuous Controllers (at least Pan and Volume).
Obviously, all the MIDI events are recordable.

Requirements
Any 68000 or Power PC macintosh running from System 7 to 8.5 (Must be OK under Mac OS 9).
A MIDI interface hooked on the modem port.
A MIDI gear compatible with continuous MIDI controllers messages.

Technical tips
MIDSensor works with its own MIDI drivers, so you don't need OMS nor Apple MIDI manager. Nonetheless MIDSensor is compatible with this previous drivers.
MIDSensor is compatible with almost all MIDI gears of the market (including standards like XG,GS,TG,General Midi).
For the rest, the online help is enough !

Download here


What is SG01v editor ?
The Akai SG01v editor lets you control your Akai SG01v or SG01p expander by sending preset continuous controllers adapted for this gear. You can control the parameter with a simple click and access the portamento function in real time !
This soft is FREEWARE !

Requirements
Any 68000 or Power PC macintosh running from System 7 to 8.5 (Must be OK under Mac OS 9).
A MIDI interface hooked on the modem port.
An Akai SG01v or Akai SG01p expander.

Technical tips
Akai SG01v editor works with its own MIDI drivers, so you don't need OMS nor Apple MIDI manager. Nonetheless MIDSensor is compatible with this previous drivers.
For the rest, the online help is enough !

Download here